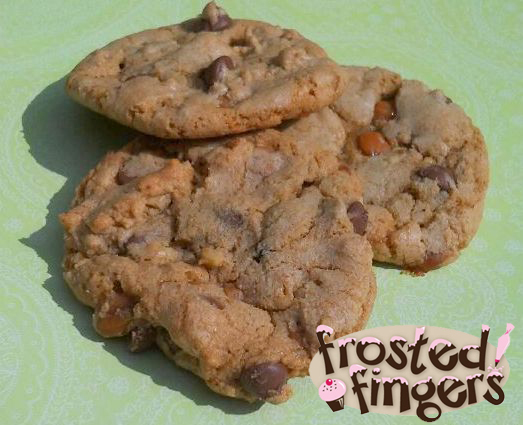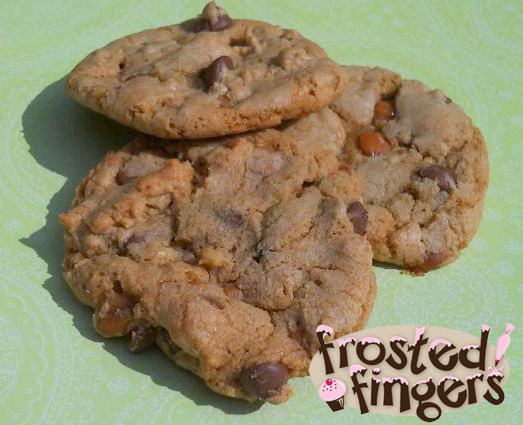 Recently Curt of LiveFire challenged us Verizon Wireless Savvy Gourmet bloggers to a Chocolate Chip Cookie bake off. We had to use his basic recipe and we could change things or add up to three items to the cookies. This morning as I was thinking about what I'd do to the recipe I thought about adding caramel, because that would ROCK! Then I thought, why not add walnuts as well and make them Turtle Chocolate Chip cookies. Wow, these are amazing cookies! I'm not a huge nut fan, so I did not add a lot of nuts to the recipe. I barely even taste them. That first picture in this post was taken on my Motorola Xyboard that was provided to me as part of the Savvy Gourmet Program. Not a bad picture! (I know now, though, not to try to take pictures at noon. The sun is TOO bright!) I love using my Xyboard in the kitchen. It's so great to be able to view my recipes and use programs such as OneNote to take notes about them while I'm going.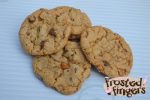 Turtle Chocolate Chip Cookies
Ingredients
1

cup

whole wheat flour

1

cup

bread flour

1/2

teaspoon

baking soda

1/2

teaspoon

salt

3/4

cup

butter

melted

1 1/2

cup

light brown sugar

1

tablespoon

vanilla extract

1

egg

1

egg yolk

1

cup

milk chocolate chips

1

bag Kraft caramel bites

approx 2 cups

1/2

cup

finely diced walnuts

more if you like a lot of nuts
Instructions
Preheat the oven to 325 degrees F. Grease cookie sheets, or line them with parchment paper or use a Silpat.

Mix the flour, salt and baking soda and set aside.

Mix the sugar and butter just until thoroughly mixed, then add egg, yolk and vanilla and mix until creamy. Add the dry ingredients and mix until just blended.

Stir in the chocolate chips, caramel chips, and walnuts, then drop dough 1/8 cup at a time on a cookie sheet, about 3 inches apart, and bake for 15-17 minutes. Leave them on the cookie sheet to cool a bit when removed from the oven (this is important... they fall apart if you move them too quickly). Once they cool a few minutes, remove the cookies to a cooling rack to finish cooling. Or eat them right away, with milk!