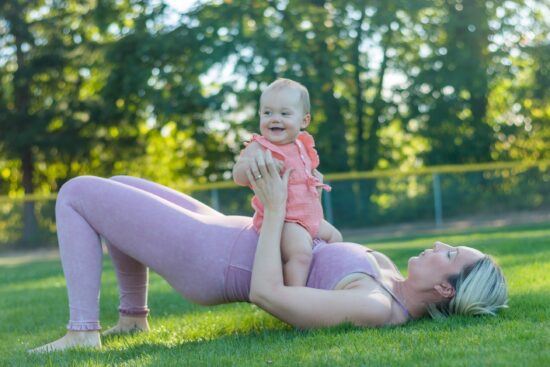 Image Source
Easing into Exercise: Loving Your MOMazing Body One Workout at a Time
Motherhood is a journey of pure love and unparalleled joy. It brings a sense of fulfillment into your life. It's natural for you to spend time bonding with your little bundles of joy and nurture them. Equally important is your physical and mental well-being. So, no matter how overwhelming your new responsibility may feel, think of ways to make things easier for yourself and take out time for yourself.
As a new mom, it's essential to engage in exercise. However, after giving birth, your body needs time to heal and adjust to the new normal. By gradually easing into a postnatal exercise routine, you can ensure a safe and effective transition to physical fitness, while loving your MOMazing body.  
General considerations for new moms who want to stay fit and healthy
After childbirth, it's a common wish of every mom to get back to her pre-pregnancy body as soon as possible. Consider the following points before starting to work out and remember, your body needs time to rest and recover.
Create a schedule and set goals
Now that you're a mom, your time and energy may be limited, and self-care seems a challenge. Find small pockets of time to exercise. You can do it during your little one's nap time or when someone in your family and friends is around to watch over. Set realistic goals. It took you nine months to make that beautiful baby. It will certainly take time for you to get back into shape. 
Start with gentle exercises
Start with gentle exercises like stretching or a 15-minute walk. Give your body time to heal from the sequelae of childbirth. Low-impact activities will keep your energy levels high. Gradually ease into intense workouts after your body becomes stronger.
Listen to your body
Pay attention to your body's cues. Seek professional advice for unbearable pain, although mild discomfort after exercise is common. Be kind and patient with yourself. It's important for you to realize that progress takes time. Don't over-exert yourself. Just remain persistent in your routine.
Seek professional guidance
Every woman's postnatal journey is unique. It is crucial to consult your healthcare provider and seek medical support before starting intense workouts. Depending on your specific needs, you may need the advice of a professional fitness expert.
Benefits of postnatal workouts
Some of the proven and time-tested benefits of physical fitness exercises after childbirth are:
Improved mood

Weight loss

Prevention of backache

Helping you regain your pre-pregnancy shape

Promoting cardiorespiratory fitness

Preventing postpartum depression

Enhancing quality of life
Timeline of workout plans for new moms
Week 1 to 6: Gentle postnatal exercises
During the initial weeks of puerperium, focus on gentle exercises that help activate the core muscles and enhance blood circulation. Here are a few examples.
Walking
Start with short walks and gradually increase endurance. Walking is also a good way to warm up for subsequent exercises.
Stretching
Performing light stretches helps relieve tension in the neck, shoulders and back.
Pelvic floor exercises
Strengthen your pelvic floor muscles by contracting and releasing them. It helps to counter vaginal laxity and the effects of damaged perineal and pelvic muscles of childbirth.
Week 7 to 12: Low-impact aerobic exercises
By this time, your body has started to heal, but it is still crucial to listen to it and take it slow.
Stationary cycling
Start with low resistance and slowly increase the intensity. It helps promote cardiorespiratory fitness.
Swimming
This is a low-impact aerobic exercise that improves overall health and endurance.
Yoga or pilates
Consider joining postnatal-specific yoga or pilates classes for gentle exercises directed toward enhancing your core strength and flexibility.
Postnatal month 4: Strength training
Gradually increase your workout intensity and focus on regaining your strength and stability. Some of the exercises you can incorporate into your routine at this time are:
Squats
Performing body-weight squats strengthen the lower body.
Modified push-ups
Perform push-ups on your knees or against a stable surface.
Glute bridges
Lie on your back, bend your knees and lift your hips to engage the gluteal muscles.
Postnatal month 5: Moderate intensity strength training
Start incorporating more dynamic exercises of moderate intensity into your routine.
This will further build your core body strength and stability. You can engage in:
Lunges
Perform forward and reverse lunges to strengthen your legs and glutes.
Plank variations
Practice forearm planks, side planks or mountain climbers.
Dance fitness classes
Join light dance exercises to make cardio more enjoyable.
Postnatal month 6 and onwards: Full-body workouts
By now, you will feel more comfortable in your workout routines. You can gradually resume more intense full-body workouts. 
Outdoor activities
Engage in group or family activities to keep it more fun. Plan a day of hiking or swimming once in a while.
High-intensity interval workouts
This group includes exercises, which alternate between several minutes of high-intensity movements to significantly increase your heart rate, followed by periods of low-intensity actions. An example is to sprint for 15 seconds between jogging. It is a great way to boost your metabolism.
Cardiovascular exercises
Perform high-impact cardio like jogging, zumba and cycling. This helps maintain your overall well-being as well as builds your endurance.
In Summary
Postnatal exercises offer numerous benefits to mothers if carried out in a safe way. It is necessary to take into account the unique needs of the postpartum body. With the guidance of your primary care provider and your dedication, you can experience its rejuvenating effects on your physical and emotional health.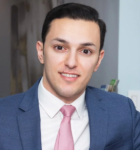 About the Author
Dr. Ammar Mahmoud is a highly respected cosmetic gynecological surgeon known for his expertise in minimally invasive procedures. He has a particular focus on sexual wellness and function. He has trained at St. George's University, where he served as Vice President of the Medical Honor Society and on the board of the Anatomical Clinical Research Society. Dr. Mahmoud also completed his residency at the State University of New York Downstate, where he currently serves as a clinical associate professor. In recent years, he has given a keynote speech on advanced labiaplasty and vaginoplasty techniques and has been a faculty member at the International Cosmetic Gynecology Conference in 2018 and 2019. Dr. Mahmoud is a member of the American Society of Cosmetic Surgeons and the American Society of Cosmetic Laser Surgery. He is dedicated to providing his patients compassionate and professional care based on individual needs.