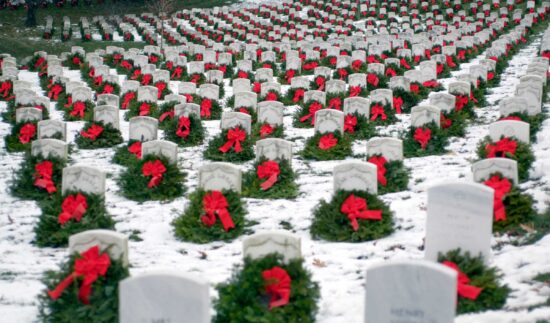 Have you ever heard of Wreaths Across America? I had but really didn't realize that it can be done on a local level along with Arlington National Cemetery. When in eighth grade I visited Arlington Cemetery. I think it's time to take my kids so they can understand just how many people have sacrificed for our country.
Remember, Honor, Teach
The mission of Wreaths Across America is to Remember, Honor, and Teach. The mission is carried out by coordinating wreath laying ceremonies at Arlington National Cemetery as well as veterans' cemeteries across all 50 states. The organization's mission lasts far beyond one single day in December; it is year-round.
remember
In order to remember our heroes WAA asks that when a volunteer places a wreath at a veteran's grave that they speak the person's name out loud and thank them for their service. They ask that they reflect on that person's life in a way to remember them.
Honor
Wreaths Across America participates in veteran's ceremonies throughout the year. They want to keep memories alive and honor those that have sacrificed for our country. If we don't remember our history, we are bound to repeat it.
teach
Wreaths Across America is committed to teaching younger generations about the value of their freedoms. The convoy that brings all the wreaths to Arlington National Cemetery stops at many schools along the way. WAA also offer learning experiences, media projects, and opportunities for scouts, 4H, and other youth groups to participate. They even have a service-based curriculum for youth aged Kindergarten to 12th grade.
2021 Recap
WAA's annual pilgrimage from Harrington, Maine, to Arlington National Cemetery has become known as the world's largest veterans' parade, stopping at schools, monuments, veterans' homes, and communities all along the way to remind people how important it is to remember, honor and teach.
★ 2.4 million veterans' wreaths were placed in total across the country.
★ More than two million volunteers participated at 3,137 locations nationwide. More than a third of the volunteers were children.
★ At Arlington National Cemetery specifically, the Wreaths Across America program saw
66 tractor trailers deliver over 250,000 veterans' wreaths that were placed by nearly 38,000 volunteers.
★ Over 525 truckloads of wreaths were delivered across the country by hundreds of volunteer professional truck drivers driving donated equipment and fuel from approximately 390 carriers.
Theme for 2022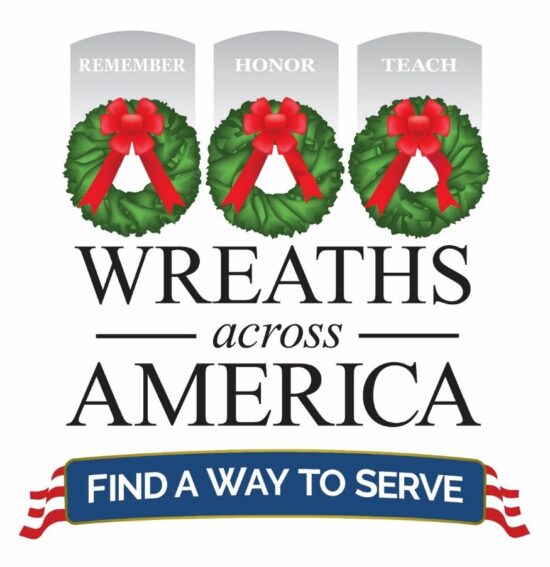 The inspiration for this year's theme came from a few different places and seemed to be a recurring conversation throughout the last year. Notably, the American Rosie Movement which highlights the stories of the World War II-era women known as Rosie the Riveters, or simply "Rosies." These women pulled together to do the work that needed to be done for our freedom. The movement encourages youth to get involved in their own communities to serve in small ways that can make a big impact. As part of this new theme, Wreaths Across America is revamping its educational curriculum working with like-minded organizations to develop action plans to inspire young people across the country to find a way to serve in 2022 and beyond.
How can you help?
You can sponsor a live, handmade balsam wreath for $15 at www.wreathsacrossamerica.org. If you live on the East Coast you can watch the convoy go by:
December 10, Escort to Arlington begins. This is a weeklong truck convoy of wreaths that starts in
Maine and drives to Arlington National Cemetery with stops along the way. The following locations are subject to change. Please visit https://www.wreathsacrossamerica.org/arlington-escort-information to stay informed.
In addition to giving money for a wreath, you can also volunteer at a local cemetery to place wreaths on December 17. I will be looking for a local cemetery for my kids and scout organizations that we are involved in to help out at.