Note: This is a sponsored conversation written by me on behalf of Make-A-Wish®. All opinions are my own.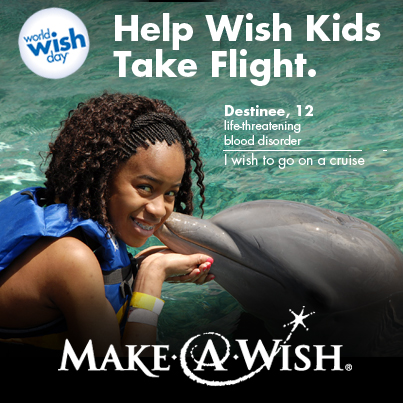 One thing I've been extremely thankful for is that my children are healthy and I'm always worried that I'm tempting fate by trying to become pregnant again. I'm afraid that for some reason my baby will have something wrong with it. (No, I'm not pregnant yet, just hope to be soon.) Some families, though, have to deal with children that have life-threatening medical conditions. The Make-A-Wish® foundation is there to help grant these children a wish. Do you know what they do?
The Make-A-Wish Foundation was founded in 1980 after a little boy named Chris Greicius realized his heartfelt wish to become a police officer. Since its humble beginnings, the organization has blossomed into a worldwide phenomenon, reaching more than 250,000 children around the world.
Did you know that nearly 75 percent of wishes require air travel, making it a critical – and costly – resource? In fact, approximately 50,000 airline tickets, the equivalent of 2.5 billion airlines miles or $37.5 million, would be needed each year to cover the cost associated with sending wish kids and their families to and from these incredible experiences. How can you help?
You can donate frequent flier miles or dollars at wish.org/tickets and help wish kids take flight! I lived very near a Make-A-Wish location in Kissimmee, FL and I always wanted to take the time to go over and see it but never did. I wanted to take the time to go donate my time, but life, as always, was too busy. I wish I had frequent flyer miles to donate, but since I don't, I will most likely donate some money soon!
As an added incentive, WWE® Superstar John Cena® will personally match every frequent flier mile donated in April, up to 4.5 million. WWE will also leverage its wide array of assets – TV, digital, social media and live events – to help to promote World Wish Day to its 143 million social media fans and 13 million weekly viewers in the United States. United Airlines will also support World Wish Day by matching the donations of its MileagePlus® members, up to 3 million miles, through April 30.

Several other Make-A-Wish sponsors are coordinating special World Wish Day promotions, including Maggiano's Little Italy®, Marquis®, Brooks Brothers, and Dave & Buster's.
#WorldWishDay is April 29. Can you donate some airline miles or money to help grant these kids their wishes?
This year, 10,000 wish kids and their families will travel for a Make-A-Wish® experience. That's 50,000 roundtrip tickets or 2.5 billion frequent flier miles. In honor of World Wish Day®, the day of the wish that inspired the founding of Make-A-Wish, visit wish.org/tickets and donate miles and dollars – and help wish kids take flight.
This is a sponsored conversation written by me on behalf of Make-A-Wish®. The opinions and text are all mine.