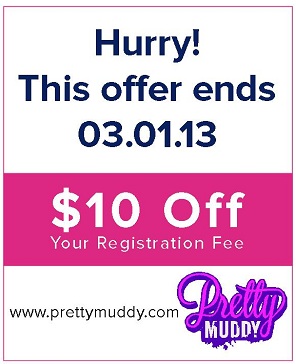 I never got a chance to tell you about it last year, but I ran the Pretty Muddy 5k Run in Chicago last year. It was a complete blast and I can't wait until September to run it again. The run includes mud and climbing obstacles through out the 5k course that make it more challenging than running a regular 5k. You get so messy but it's great fun, especially if you're doing it with a girlfriend. (Sorry, no guys allowed!) I just wanted to tell you that this is the last week that you can get $10 off your registration for the Chicago run. After March 1st the price goes up to $69.50.
If you want to join me, I'm running the 10:30 am wave with Team One More Mud Puddle. If you're in Chicago, come join me and register here.
Note: I was given a ticket to run the Pretty Muddy Run in Chicago in exchange for this and other posts. All opinions are my own.