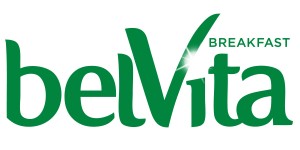 Have you tried the new belVita breakfast biscuits? I got a chance to try them and fell in love! They have three different flavors out: Golden Oat, Blueberry and Apple Cinnamon. The blueberry is my absolute favorite. It tastes like eating a blueberry muffin. I had to stop myself from melting butter to drizzle over the top! (I really wouldn't have, but I kinda wanted to!) I'm not a big fan of eating them for breakfast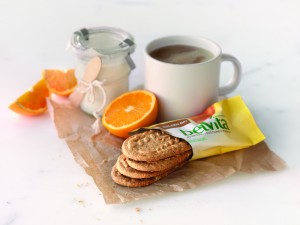 because I want more with them. I did eat them for five days in a row and noticed by the time the fifth day came I wasn't as hungry in the morning and I wasn't as hungry as early on before lunch, either. Each package is 230 calories. I like to eat these as a snack in the middle of the day to hold me over until dinner. There is no High Fructose Corn Syrup in the biscuits, which I'm happy about. "belVita Breakfast Biscuits are specially baked to release energy regularly and continuously in your body—which means you have nutritious sustained energy that lasts all morning." I also love how portable these biscuits are. Being prepackaged in groups of four, you can just throw them in your lunch bag or gym bag for an on the go breakfast or lunch!
I had a challenge to try belVita Breakfast biscuits for five days and to post to Facebook each day. I'm going to share my status updates for those five days with you:
This morning for breakfast I had belVita Oat crackers for breakfast. They were totally yummy. Tomorrow I need to add a little something in with them, though, because I was hungry by 10am. Need to go grocery shopping so I have some bananas or something to add in 🙂

So I didn't get on FB Friday, but wanted to tell you that I tried the belVita apple cinnamon that morning and it was pretty good. I do like the Oat and Blueberry better. I wasn't as hungry on Friday as I was on Thursday. I'll be back to eating my bars tomorrow for breakfast. We always have a bigger breakfast on Sunday mornings.

OK, I lied. I didn't notice the time! Time to grab a belVita and banana to hold me over to lunch! Today I'm going to eat blueberry.

This morning I had the Oat flavored belVita for breakfast. It's now 10:40 and I'm not terribly hungry. I ate at 7:30. My appetite must be shrinking in the mornings.

For my birthday I'm treating myself to the blueberry belVita. These are my favorite. Have you tried them yet? What's your favorite?

I'm sick and don't really feel like eating today. I'm going to grab my belVita to go as a snack for when I feel hungry.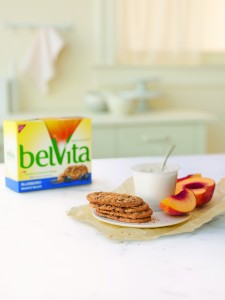 I think I would have had better eating success if I had added something in, like those bananas I never bought. It was a really rough week for me, because that was when I ended up getting bronchitis and sinusitis. Great way to spend your birthday!
I definitely think you should give these a try, if not as a breakfast, then definitely as a snack! I know that since I started trying these out and posting about them on Facebook I've had numerous friends try them out and like them as well.
Note: I wrote this review while participating in a blog tour campaign by Mom Central Consulting on behalf of belVita Breakfast Biscuits and received belVita Breakfast product samples to facilitate my review, and a promotional item to thank me for participating.