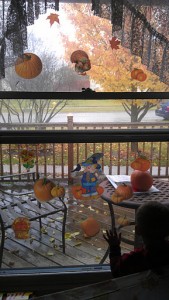 Are you looking for a place to get some decorations for the fall? Why not check out Family Dollar? I have to admit there wasn't a lot left this week when I went, but if you're a creative person, there's lots of possibilities. They have the standard dish towels, window clings, and napkin holders. Like I said, though, if you're crafty, you could make your own centerpieces using some of their flame-less candles and fake flowers. They also have repositionable will stickers so that you can decorate your walls just for the season and remove them. We went simple and got two packages of window clings for my kitchen window and then a fall drying mat for my kitchen counter because you know when you have parties you need a place to put all those bigger dishes that don't fit into the dishwasher to dry!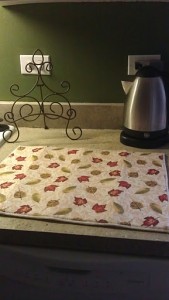 Now I'm going to vent here for a minute. This isn't all on Family Dollar, but all retailers in general. It is driving me nuts that you can't even finish off your current holiday before Christmas decorations are out. I went in to look for Halloween decorations 2 weeks before Halloween and already Christmas had taken over the store. It's like that everywhere. I'd love to be able to buy more Halloween/Fall decorations from anywhere, especially Family Dollar because of their price point, but I can't because they take the stuff out of the stores way too early. Vent over.
If you go this week to buy some fall decorating items you may even find them in the discount bins. I got those window clings for .25 each. They're normally $1 each. I'm all about the bargains! Just keep in mind that Family Dollar has great pricing on decorating for any holiday or even just for your house! When we moved in to our new house I picked up two sets of dishes for under $20 and they're holding up pretty well! (It's been almost 1.5 years.) If you ARE looking for Christmas decorations or presents, Family Dollar is the right place to go!
Connect with Family Dollar:    
Note: I received a gift card to go shopping at Family Dollar in exchange for my honest opinions. All opinions are my own.