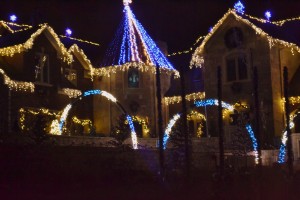 Looking for a great holiday light show? Check out the Larsen Christmas Light Show in Elburn, IL. We went tonight and really enjoyed it. You drive up in your car and turn on 88.5 on the radio and listen to the music that the lights are timed to. It's definitely nice to not have to get out of your cozy car to see the lights. We didn't stay to watch the whole show because of the drive home and the kids having school in the morning. The kids loved it and are already asking me when we can go back. They seem to have a lot more songs this year than they did last year. I think we sat there for around five songs before I decided to go.
Keep an eye out in that window in the middle. You can see Santa conducting the lights. The kids loved it!
Hours are Mon-Thurs 5:30pm-10:30pm Fri-Sun 5:30pm-Midnight
The address is: 42W891 Beith Rd., Elburn, IL 60119
The lights are put on by Countrywide Landscaping.