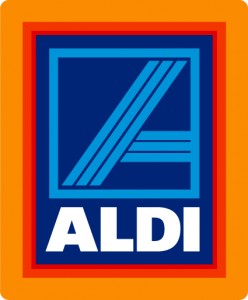 I'm really looking forward to Christmas this year for many reasons. I can't wait to see the kids' joy as they get to see the Christmas tree with all the presents under it and when they get to open all the things they've been asking for. I also can't wait to host Christmas at my house. I love to host meals at my house. I think I'm going to have around 25 people here for dinner. Wow, I just did the math and that's a little scary! One of the cool things about Christmas this year is that my brother's new wife gets to join us. She's from China and has never experienced an American Christmas.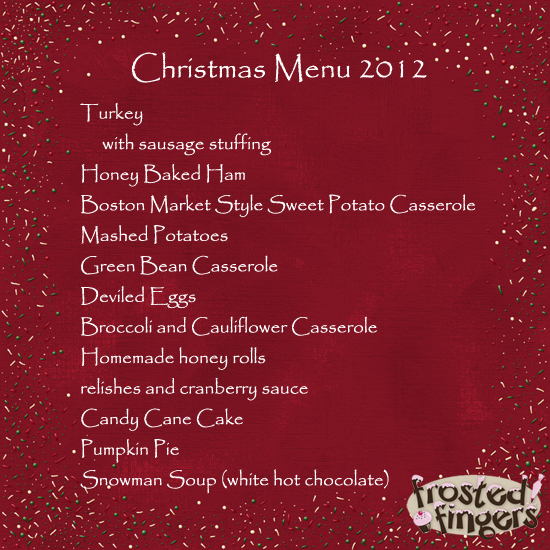 Monday morning I finished up my menu and got together a grocery list and took Little Man shopping with me. I didn't need a turkey because I have one in my freezer already from Thanksgiving and my Mother in Law is bringing the ham so I just needed to get all the side dish items when I went shopping at Aldi. I used a really cool menu planning software to pull everything together, which I'll probably review after Christmas for you.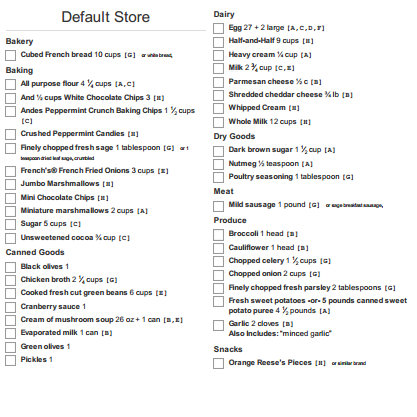 I was surprised that I was able to get almost every item on that list at Aldi. The only things I didn't find were: french bread, peppermint baking chips, sage, jumbo marshmallows, nutmeg, poultry seasoning, parsley, and Reese's Pieces. I was able to get everything else on my list for under $75!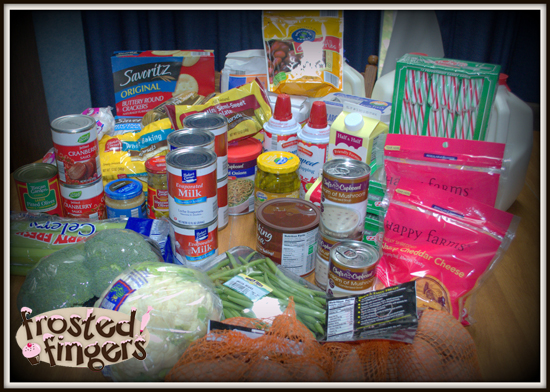 You can see that I actually even bought a few extra things. I decided I want to make some saltine toffee to put in my cookie tins this year and my husband has been pestering me for thin mint "cookies" as well. I picked up a couple extra ingredients to finish out my #25DaysofCookies recipes. A few of the things were not where I would have thought I would have found them in the store so I had to make the rounds three times, but since it's not a huge store it's not a big deal. Little Man had a good time in the store as well. They have the double wide carts so he enjoyed moving his legs from one hole to the next and moving himself across the cart. Make sure you're "Aldi Ready" before you get to the store! I had forgotten that I didn't have a quarter on me for the cart so halfway there I turned around to grab one from home. Of course once I pulled into the parking lot I realized I also left my reusable grocery bags at home. I ended up having to buy two of their large grocery bags for $1.99 each and 5 paper bags for .06 each.
Here's a few tips from Aldi to help make your food look delicious!
The Perfect Table. Let the food be the star by using white or clear plates, bowls and serving dishes. Use napkins or table runners with seasonal colors and designs to add to the holiday mood. Seasonal flowers or plants such as poinsettias from ALDI can add a pop of color to your table as well. Consider renting linens rather than purchasing if you don't think you'll use them often. Rentals are typically inexpensive and there's no cleaning or ironing involved! Pre-set your dining room table a few days in advance so you know you'll have everything you need on the day of your event.

Don't Forget the Kids. If you're expecting children at your event, prepare a couple child-friendly dishes that adults will enjoy too such as the Mini Thanksgiving Bites w/ Cranberry Glaze recipe from ALDI. They pack a great flavor in a bite-size (and kid-friendly) serving. Or, if there are picky eaters on your guest list, set up a separate table for the kids, so you don't have to display their kid foods right next to your gourmet recipes.
Check out Aldi for some great deals on all the items you need for your holiday meals. They even have some great wines for under $5 a bottle! Items to remember when going to Aldi: one quarter for your cart, reusable grocery bags, and either cash or a debit card, because Aldi does not take credit.
I participated in a campaign on behalf of Mom Central Consulting for ALDI. I received a gift certificate to facilitate my review as well as a promotional item as a thank-you for participating.