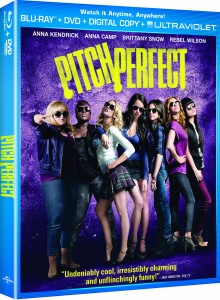 This week Pitch Perfect was released on Blu-Ray/DVD.
Beca (Anna Kendrick) arrives at her new college to find herself not right for any clique but somehow muscled into one she never would have picked on her own: alongside mean girls, sweet girls and weird girls whose only thing in common is how good they sound when they sing together in this hilarious laugh out-loud comedy, Pitch Perfect.
I started hearing about Pitch Perfect when playing a lot of Song Pop with my friends. I had no idea what it was, but I liked playing that category, because the songs were more popular and easier for me to guess! I got a chance to review this movie, still really having no idea what it was about besides music.
I turned on the movie and immediately recognized Beca (Anna Kendrick) from the Twilight series. As I watched this movie, I totally think she would have made a MUCH better Bella! Anyway, that has nothing to do with this movie.
I REALLY enjoyed Pitch Perfect. If you like Glee, I think this movie is for you. I have said many times before that music is important to me and I love watching musicals. After watching this movie I had "Titanium" stuck in my head for days. I love that Anna can actually sing. Beca is definitely my favorite character in the movie. I LOVE "mash-ups" or overlays in music. When done correctly, a song can give me the chills.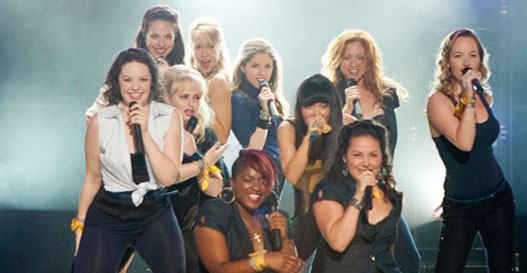 Pitch Perfect does have a lot of stupid slapstick comedy in it. Some that could be left out, such as projectile vomiting, but overall I really enjoyed the movie!

I think this would make a good present this year for Christmas for anyone that likes music and comedies.
The Blu-ray™ Combo Pack allows consumers to view Pitch Perfect anytime, anywhere on the platform of their choice. It includes a Blu-ray™ disc, a DVD, a Digital Copy and UltraViolet™ for the ultimate, complete viewing experience.
 

      

Blu-ray™ disc unleashes the power of your HDTV and is the best way to watch movies at home, featuring perfect hi-def picture and hi-def sound.

  

     

DVD offers the flexibility and convenience of playing movies in more places, both at home and away.

  

     

Digital Copy provides consumers with a choice of formats from a variety of partners, including options to watch on iPhone®, Android™, computers and more.

  

    

UltraViolet™ is a revolutionary new way for consumers to collect their movies and TV shows in the cloud. UltraViolet™ lets consumers instantly stream and download to tablets, smartphones, computers and TVs. Now available in both the United States and Canada.
BONUS FEATURES:
Deleted and Extended Scenes
Meanwhile… Find out what other characters are up to in these alternative scenes.
Line-O-Rama: Actors showcase their improvisational skills in this collection of funny one-liners from the set.
Starships, The Pitch Perfect Music Video
Backstage at Barden: Profiles & interviews with characters Benji and Bumper.
On The Set: Burrito Drive By!: Behind-the-scenes footage with Fat Amy.
A Look Inside: Catch a glimpse of this ensemble cast, the characters and the actors' thoughts behind them, with this first-look into the movie.
Feature Commentary With Director Jason Moore and Producers Elizabeth Banks and Max Handelman
Feature Commentary with Producer Paul Brooks
Blu-ray™ exclusives include even more Meanwhile… Featurettes and an additional Line-O-Rama.
In honor of Pitch Perfect out on BluRay/DVD December 18, USC's award winning a cappella group, Reverse Osmosis, performed in Santa Monica, CA this evening. The honorary "Pitch Perfect Pipers" sang all-new mash-ups of popular seasonal songs that brought holiday cheer to the entire crowd! Award winning a cappella groups will be performing at malls across the country all weekend to celebrate the holidays and Pitch Perfect!
Note: I was given a copy of Pitch Perfect in order to complete this review. All opinions are my own.