4 Flares
Tweet
Email to a friend
4 Flares
×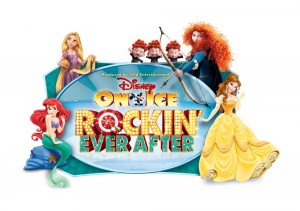 My husband and I got to take the kids to Disney on Ice Rockin' Ever After about a week ago. We were running late, so I unfortunately forgot my camera in the car. UGH! I tried taking pictures on my cell phone, but they just didn't turn out at all.
While the kids really enjoyed the show, to be honest, it was not one of my favorites. It felt very rushed to try to fit in all of the stories. In order to make time to share all four stories, the endings were changed on Ariel's, Rapunzel's and Merida's Stories. Ariel's story ends with Eric kissing her right after the song Kiss the Girl. Rapunzel never gets her hair cut. Merida's story has no bears and no real story, it just focused on her and her mother fighting and a quick mention of mending the bond. I'd personally rather see less stories told to see them represented more in their honest forms.
The skaters all did a great job. My favorite part was the brothers in Brave. They were comical and I really like the way they made it work.  Your children will really like the show. Buddy was very happy that he was able to go see Disney on Ice this time. Last year I took Cadence and her girl cousins, Aunt and Grandma as a special girl's night and then the last Disney on Ice, all three of my kids were sick so we couldn't go. From a pure entertainment standpoint, you and your kids will enjoy Disney on Ice. If you're in the Chicago area, you can still catch a few shows at the United Center.
Disney on Ice Rockin' Ever After is at The United Center from January 30-February 10, 2013. You can save 40% on all weekday shows and Save 20% on all weekend shows by using the code "MOM" on Ticketmaster.
FREE PARKING in all official United Center parking lots. Visit arena website for more information.
Note: I received tickets for my family for this show in exchange for this post. All opinions are my own.