Ritz Peanut Butter Sandwich Cookies
Prep time:
Cook time:
Total time:
Serves:
Serving size:
Calories:
Fat: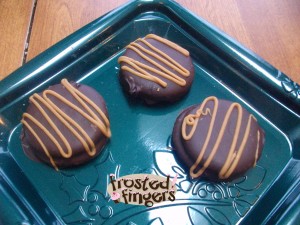 Ingredients
Ritz Crackers
Peanut Butter
Chocolate Chips or Wilton Chocolate Melts
Peanut butter chips (optional)
Instructions
Smear peanut butter on one cracker. Place another cracker on top to create a sandwich. Get all your sandwiches made first.
Melt your chocolate according to package directions.
Dip your sandwiches in chocolate and remove to wax or parchment paper until they harden.
Optional: melt peanut butter chips and drizzle over the tops of your finished sandwiches
Another one of those simple yet yummy recipes. I will be leaving it out of my cookie making frenzy this year, though, because last year I made way too many dipped candies/cookies. This year I'm going the more traditional route, which you'll see in a few days.